The Ultimate Winter Garden Care Checklist
POSTED:

16th December 2021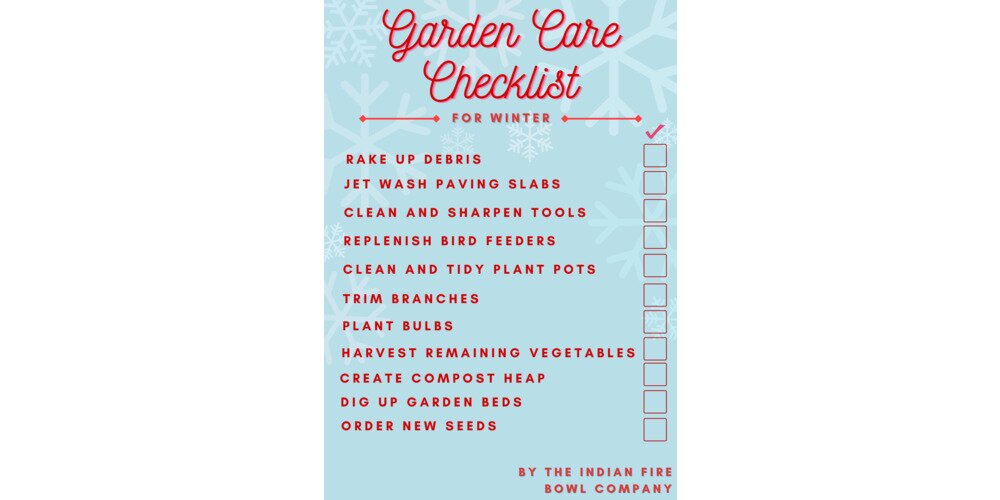 All too often, we procrastinate on our winter garden jobs until we are ready to start planting again in the Spring. Here at Indian Fire Bowl, we are committed to keeping gardens usable all year round, so we have created the ultimate Winter garden checklist! It is easy to forget that cold weather does not only affect your plants, but that it can also negatively impact the structure of your soils, create hazards, and threaten wildlife. There are a number of simple steps we can take to not only prepare for Spring, but to also increase your safety.
With Winter comes frost, ice, and snow. Protecting your plants and garden from extreme weather is part of the gardening game, but it's probably not your favourite task to complete. This is why we have taken the most important tasks for you to complete and compiled them into a list so that even if you just carry out these tasks and nothing else, your garden will remain well kept for the new year and you'll be ready to start planting when the weather begins to change.
Find our ultimate Winter gardening checklist here, along with an explanation of each task and the reasons they're so important for your garden and its flora and fauna.
Now that you're familiar with some of the most important winter gardening tasks, allow us to explain the importance of them and the time in which you should try to complete them.
Rake Up Debris
During the strong weather of Winter, debris can get stuck in your garden. Rake up any leaves, rubbish, old supports and netting, and clear away any broken pots or garden accessories. If left, the surface the debris is lying on can become damaged. Grass and plants may die or become contaminated, any rubbish that has been blown into your garden is hazardous for wildlife, and any leftover supports, nets, or unused pots should be cleared away so as to not clutter your garden and to make your life a lot easier in the Spring.
However, if your leaves cover vegetable beds, leave them! They add lots of nutrients to the soil and act as a natural option for mulch.
Jet Wash Paving Slabs
Use a pressure washer to quickly clean pavement slabs in your garden. They can become green, unsightly, and slippery when exposed to the elements for too long, and you should fix this hazard before you're ready to use your garden again in Spring. This task is also very satisfying and the results are usually very surprising. You never realise how dirty your patio is until you pressure wash it!
You could also use a small brush to clean between paving slabs if you're being super thorough!
Replenish Bird Feeders
Wildlife needs all of our help through the cold Winter months. Replenish your bird feeders with seeds and nuts, and refill any other wildlife feeders you might have hanging around to keep your garden's natural wildlife fed and happy in the cold.
Clean and Sharpen Tools
Garden tools work harder than most other appliances in your home, and it's time to give them some TLC. Sharp tools are safer for you, and better for your plants. The sharper the tool, the easier it will be to use and the less you'll have to fight to cut back your branches, keeping your fingers safe and preventing your plants from being pulled and unnecessarily damaged.
Clean your gardening tools, oil them, sharpen them, and reorganise them to make your gardening process in the new year even more streamlined, safe, and fuss-free. You should also give your gardening gloves a wash! We can almost guarantee that they are absolutely filthy and in the future you will thank yourself for washing them before Spring comes around.
Clean and Tidy Plant Pots
Now that you have some empty plant pots, it's time to clean them and tidy them away, especially if they are terracotta which can crack in the extreme cold. Either pop your plant pots into a storage solution, or stack them away out of the cold, ready to be refilled next year.
Plant Bulbs
Gardening is all about thinking ahead! If you plant your bulbs in November or early December, there's still time to get some Winter colour when January comes around. Mix them up and plant them in patches ready for some green shoots in the new year.
Harvest Remaining Vegetables
Forgotten veggies need to be dug up to make way for a new harvest. Remove old vegetables and plants that have either come to the end of their natural cycle or that you simply don't want in your new year of gardening, and throw them into your compost heap. This is a great way to make sure none of your current plants go to waste while also aiding the growth of your new plants.
Create Compost Heap
If you add compost to your flower beds in November to early December, you will produce healthier plants next year. Add it to your beds or spread it on top of "no dig" raised beds to encourage healthy and fruitful growth. Throw in your old plants and food scraps now to get fertile compost for your new plants in Spring.
You could also use this opportunity to encourage the breakdown of leaves, by adding them to black bin liners with a little soil, with some air holes punched into the bags.
Dig Up Garden Beds
Do you have clay soil? It's time to dig it up so that frost from the cold Winter nights breaks up the soil and improves the structure. You want to avoid your soil becoming frozen in place!
If you have sandy soil, hold off on your digging until the Spring. Because sandy soils are free-draining, the beds will be more prone to moisture loss so by refraining from digging you will be retaining as much moisture as possible.
Order New Seeds
It might be too cold to plant, but we can dream of warmer months and start to plan our new gardening ventures. Collect some seed catalogues to browse a diverse range of seeds and plan ahead for your new year of gardening!
Winter Gardening for Spring Blooming
With your garden fully prepped, you're ready to jump straight back in. Keep on top of waste and debris to maintain your garden, as well as your usual plant upkeep, and come Spring your garden will be ready for new life.
Give your future self a break by completing all of your winter jobs now. You could improve your whole new year of gardening by putting in a little extra time now. Take the time to create your compost, plant bulbs, plan your new plants, and clean up to make your new year infinitely easier.