5 Reason why you should get a Fire Bowl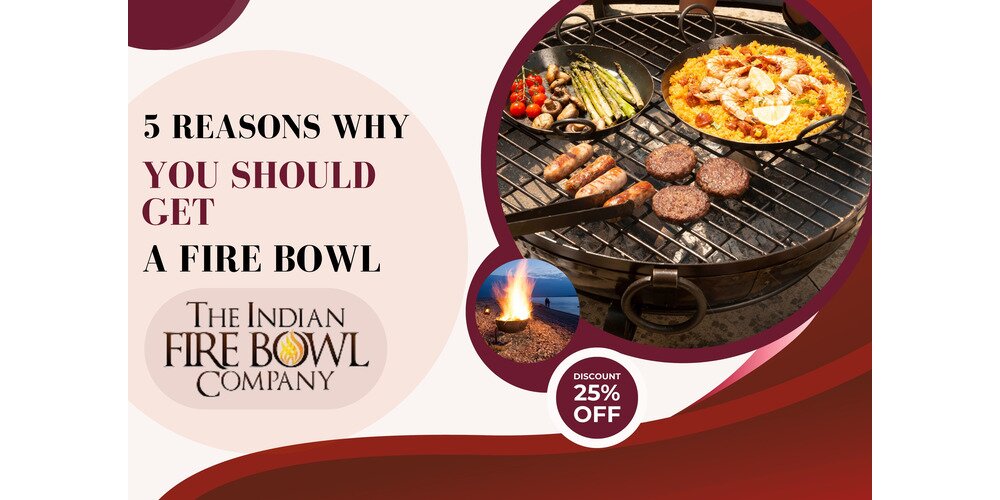 Are you looking to upgrade the quality of your outdoor space?
Outdoor spaces have become an increasingly important part of our lives, especially after the hardships of Covid and lockdowns. Many of us came to the realisation that our gardens lacked any real appeal and usability, which made those tough times even worse when we hadn't kept our gardens in good shape or utilised its potential as an extra living space. We now want our outdoor spaces to be a welcoming and luxurious place and making much more use out of them than ever before. We want a haven where we can relax either on our own or with others,
Making our dull and basic outdoor spaces full of life, is a task that most of us now want to fulfil. The quickest and easiest way is to add an exciting centrepiece as a focal point.
Among all the different accessories and centrepieces, the perfect way to revamp our outdoor spaces is with an Indian Fire Bowl. These are stunning and versatile pieces, giving you many possibilities that will instantly elevate your outdoor space with its handcrafted quality and expert craftsmanship.
Here are 5 reasons why this incredible centrepiece is the latest must have for your garden and outdoor areas:
1. Ambience:
Indian Fire bowls instantly add a captivating and mesmerizing ambiance to your outdoor space. The warm, flickering flames create a cozy and inviting and relaxing atmosphere, perfect for you and your guests, nothing beats and open flame for relaxation.
2. Year-round use:
Spring & Summer
Indian Fire bowls are perfect for cooking a BBQ feast, get grilling and enjoy that smoky flavour you can only achieve over a real fire, you can use logs and/or charcoal/briquettes.
Autumn & Winter
Indian Fire bowls are incredibly versatile including serving as a heat source when it's cold, even in the winter allowing you to extend the usability of your outdoor space throughout the year. Toast some marshmallows over the open fire and make some delicious S'mores. Or why not heat up some creamy hot chocolate to add your marshmallows too?
3. Get creative
You can get even more imaginative and fill it with soil and plants to create a beautiful planter to add vibrance and colour to your outdoor space. During the hot weather you could also fill it with ice, add some drinks and voila, a unique ice bucket feature!
4. Dual Purpose
Indian Fire Bowls are beautifully versatile as they are a stunning feature for your outside space, a great barbecue, and can also be used as a fire pit for when the nights get darker and chillier, but you really want to make the most of your outside space.
5. Aesthetic
Fire bowls come in various styles and designs, and these Indian Fire bowls are made from recycled materials which started life as metal oil drums and have been stunningly transformed by hand in India! Our range of fire bowls perfectly combines raw beauty with fantastic functionality. Thanks to the wonderfully rustic recycled materials, these fire bowls provide a garden or patio with a completely unique and authentic Indian feel.
All these reasons link these fabulous Indian fire bowls to being the ideal addition to your outside space. They contribute to your wellbeing and their standout versatility in both styling and usability makes it one of the most popular choices to be the centrepiece of your gardens or outside space for parties, get togethers or casually relaxing on your own. No matter what the occasion, there are multiple uses for an Indian Fire Bowl in your gardens and outside spaces.