Garden Design Trends for 2018
POSTED:

01st February 2019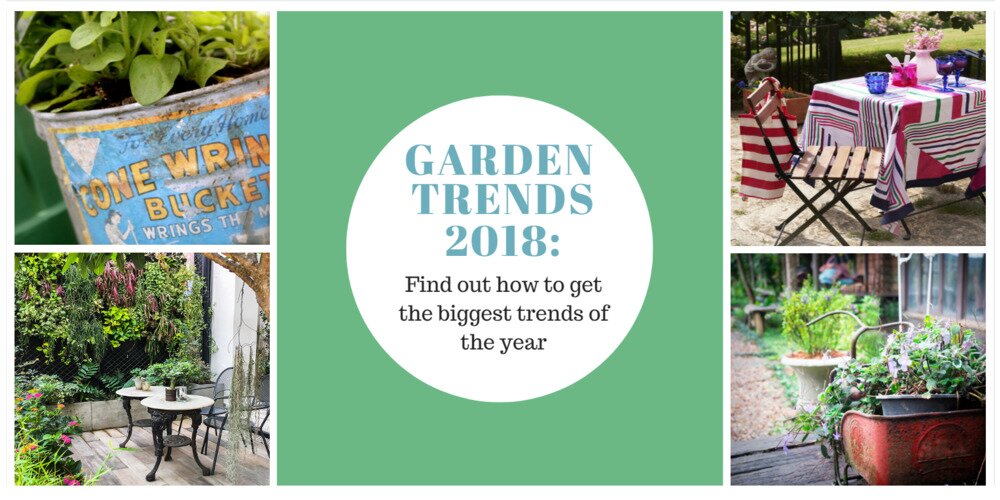 For many of us, the start of the year brings with it new ideas, plans and resolutions. Often topping that list is to finally re-do the garden. Whether this means you want to invest in some new garden furniture, like a rustic set of table and chairs or an authentic fire bowl to stay warm, or just finally get around to putting in some new plants, this is the year to do it. We are seeing some wonderfully fascinating trends this year, from repurposed vintage furniture to modern, Scandinavian design. The fantastic thing about garden trends this year is that you don't have to break the bank to get the look. Although they might look expensive, you will be pleasantly surprised to find out that all of this years' different styles can be achieved easily and affordably. This might be down to the fact that more of us are now starting to see our gardens as a blank canvas, ready to display our design skills. No longer do you need a degree in landscape design to turn your back garden into a modern masterpiece. We have rounded up some of the biggest and best garden trends set to be huge this year, all of which are as beautiful as they are achievable.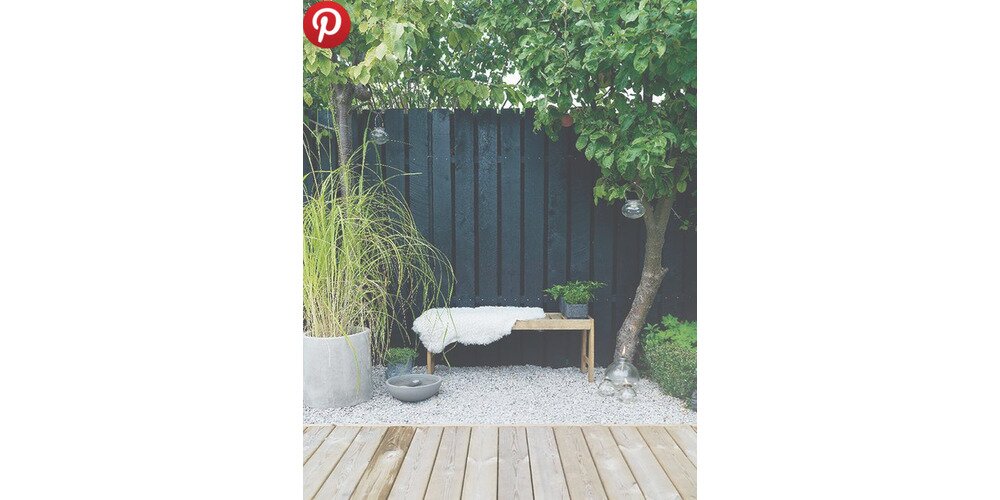 Scandinavian Style
This style has been trending all over the world, throughout both homes and gardens. It has a beautiful simplicity that is captured in its often rustic features. The Scandinavian influence brings with it a perfect balance of pale greys and subtle colours, creating a sense of calm and serenity. Thanks to its tranquil nature, this style works wonders in a garden and looks completely at home when surrounded with nature. The best way to achieve this style is by investing in rustic, minimalist garden furniture. The good news about this style is because you only need a few things to achieve it, it's relatively easy and cheap to do. A wooden table and chairs quietly nestled in the corner of your garden, draped in faux fur and pillows, is a great place to start.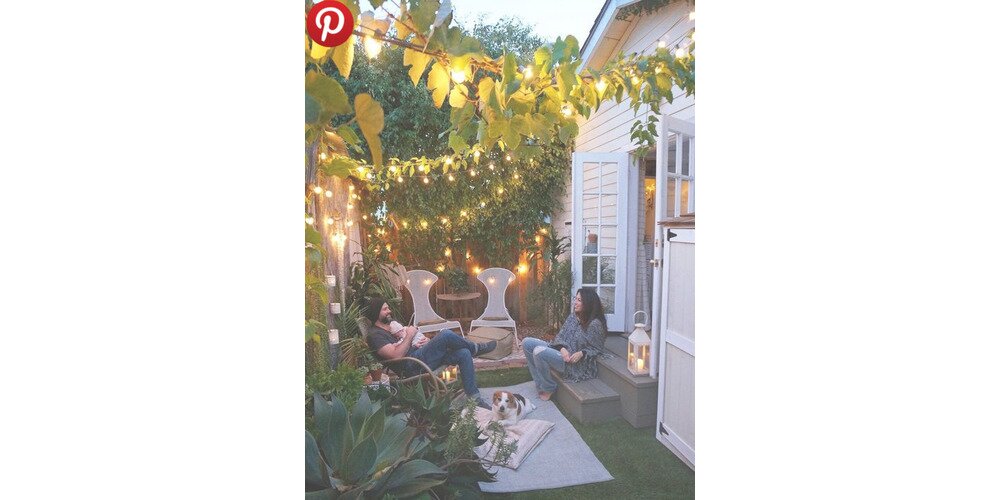 Embracing a smaller garden
If you own a smaller garden then this is the year for you. So many interior designers are now seeing what you can do with a small space. By unlocking its potential you can create a cosy, simplistic and serene area where you can relax and unwind after a long day at work. Space is becoming more limited these days which has led to this big rise in smaller garden design trends, more than ever before. For many of us with a smaller garden we will try and make it look as big as possible by adding in stone paths, water features and vertical features. However, this year seems to the year of embracing the small, which is mainly due to the popular Danish lifestyle choice of Hygge. Hygge, pronounced hue-gah, is the concept of taking pleasure in the small things. It's a refreshing take on life in a technological world. With Hygge, you can create cosiness and warmth with the little things, such as candles and plants. This style of design lends itself perfectly to a small garden as you can simply embrace what is there and create your own area of peace and calm.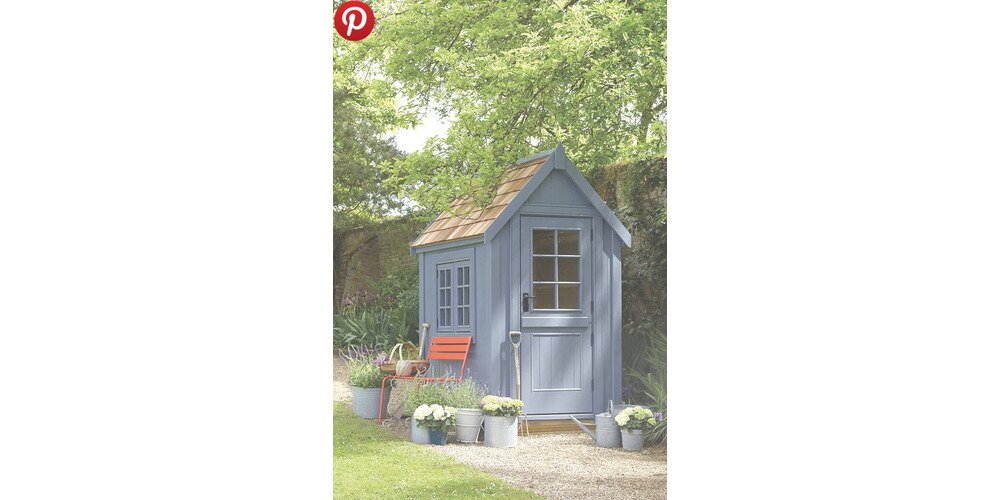 Inject some new colour
When you think of a garden, you may find yourself imagining a luscious green area, with the odd bit of red and yellow popping through in the flower bed, but this year designers are injecting much more colour into gardens and breaking free of the old traditions. By painting sheds, fences or summer houses you can create a wonderful block of colour that will add a whole new design dimension to your space. Pastel blue, teal and pale yellow are all great colour choices for this as they complement the green of your garden perfectly. When combined, these colours create a light and fresh style that can breathe new life into any garden.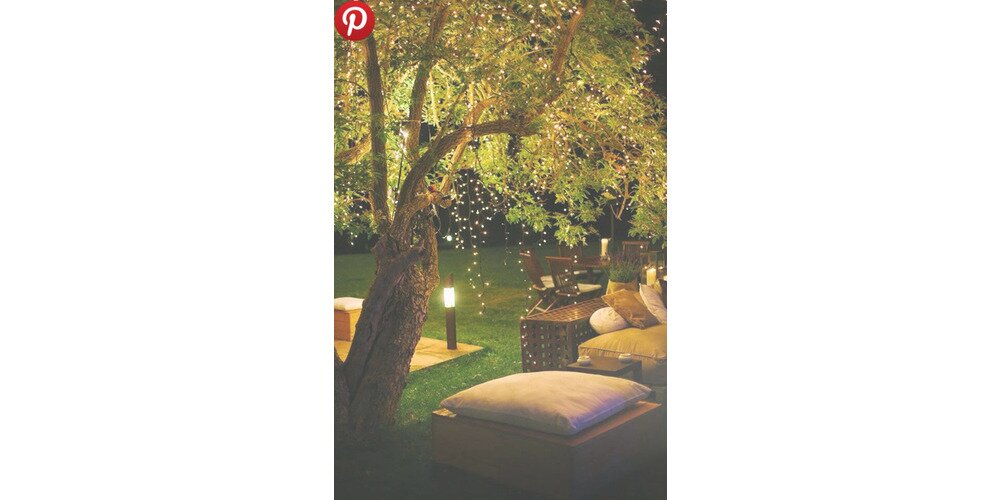 Garden lighting trends
As solar powered garden lights have become more and more advanced, there has been a noticeable rise in the popularity of garden lighting. Not too long ago it was rare to see a garden lit up at night, whereas now it is much more common. Garden lighting is much more affordable now and comes in a wide range of options, from solar power fairy lights to heavy-duty lanterns, there is a lighting style out there for anyone. However, if you are looking at what designers are doing this year then you will notice a big trend in soft, warm fairy lights gently draped around large trees, carefully dangling down towards the ground. By lighting up trees in your garden instead of manmade items you are making nature your centrepiece. Instantly attracting the eyes and setting the tone of the garden. A softly lit tree is inviting, cosy and warm, perfect when used near your outdoor seating.
A big garden trend this year is the use of outdoor fire bowls. When it comes to lighting your garden area you can't beat the light that comes from a real fire, but for most of us, a fire in the garden isn't practical. This is where Indian fire bowls come in. These beautifully crafted and authentic items are the perfect size for any type of garden, large or small, and provide unrivalled warm lighting that is guaranteed to highlight your gardens natural beauty. Designers are using these much more this year and it's clear to see why, as they can be used for cooking, heating, cooling and lighting. Both stylish and useful, Indian fire bowls are a big trend for 2018.
Another popular garden lighting trend is the always elegant and constantly stylish candlelit lantern. Whether you prefer the Moroccan style or a more vintage design, a candlelit lantern can create a wonderful sense of romantic calm which would suit any type of garden. Use just one or two to create the Scandinavian style or use them to light up your path, either way a lantern might be small in size but its style is felt throughout the entire outdoor space.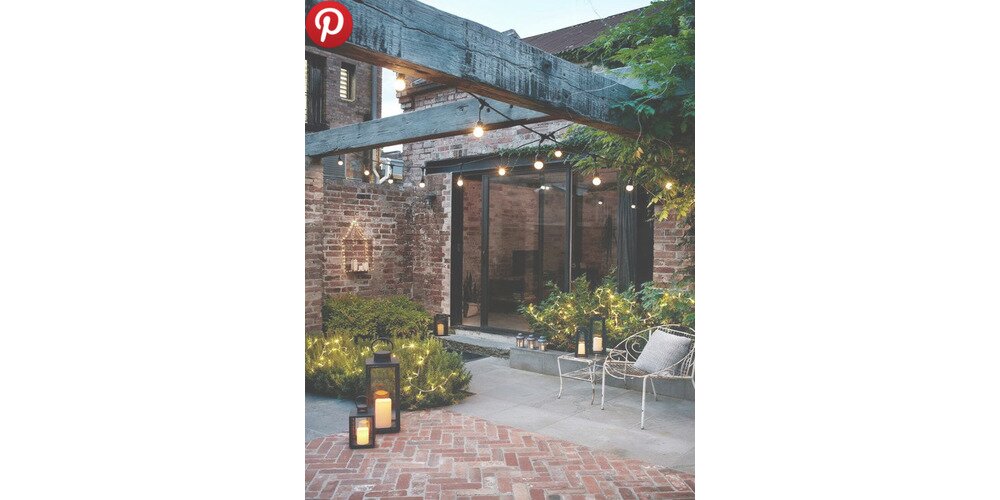 Keep it rustic
The rustic trend isn't new for 2018 but it is definitely still going strong. This year, we are seeing a huge rise in Woodpiles. Originally used for practicality, designers are now seeing the potential in what patterns and shapes you can make with these rural and rugged wood piles. Not only fashionable, but highly functional too, as a wood pile can double up as a fence and boundary wall whilst still providing your garden with a beautiful design feature that oozes rustic creativity.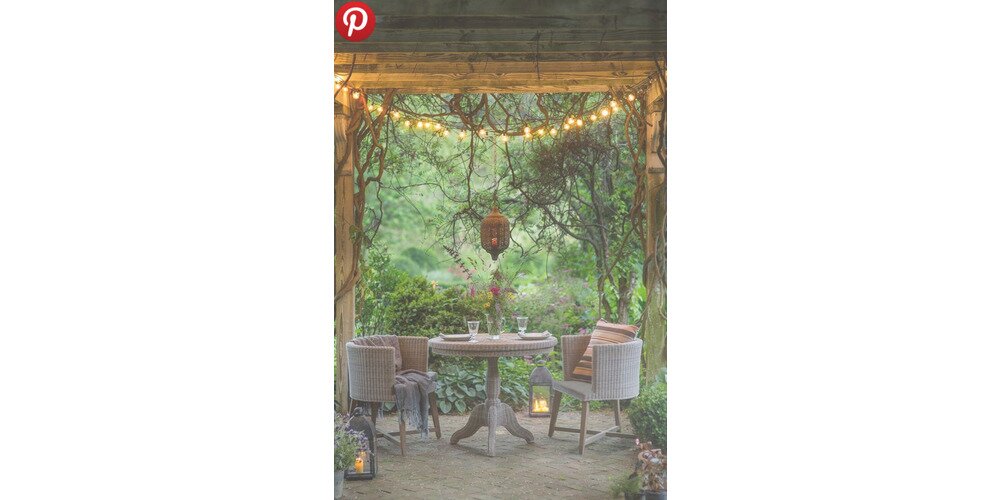 Outdoor cooking trends
Nothing beats cooking outside, enjoying a BBQ with friends and family is often the highlight of our summer. Although we enjoy them so much, we only seem to eat outside in the summer, whereas other countries enjoy alfresco dining all year round, regardless of cold nights and windy days. This is something interior designers have picked up on recently and are now including outdoor cooking spaces into their designs. However, you may not want a BBQ in your garden all year round as some of them won't suit your garden's style and will look out of place. That being said, there is something you can do: invest in an Indian fire bowl. They are a beautiful garden feature that can draw attention whilst also subtly blending in with your gardens natural aesthetic. An outdoor dedicated cooking area is a great way of using the most out of the limited garden space you have. The key is to rethink how you do it, by creating an actual area you can then decorate it a little differently, light it separately and create a whole new dimension to your garden.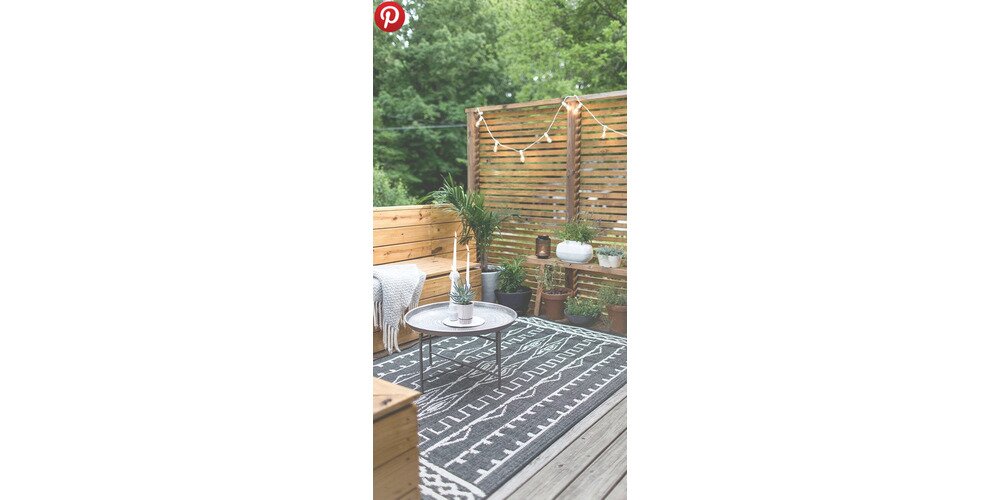 Open air living room
Now, we know that in the UK this may not be as practical as in other parts of the world, but an outdoor, comfortable 'living room' has become a very popular choice for interior designers this year. It adds a new type of flow from your home to your garden and provides a bohemian style and feel to any type of outdoor space. Whether you prefer a vintage style, contemporary or even Scandinavian, an open-air living room will seamlessly suit all styles. Combining the comfort of your home with the natural beauty of nature not only looks great but can also help to improve mental health. According to Country Living;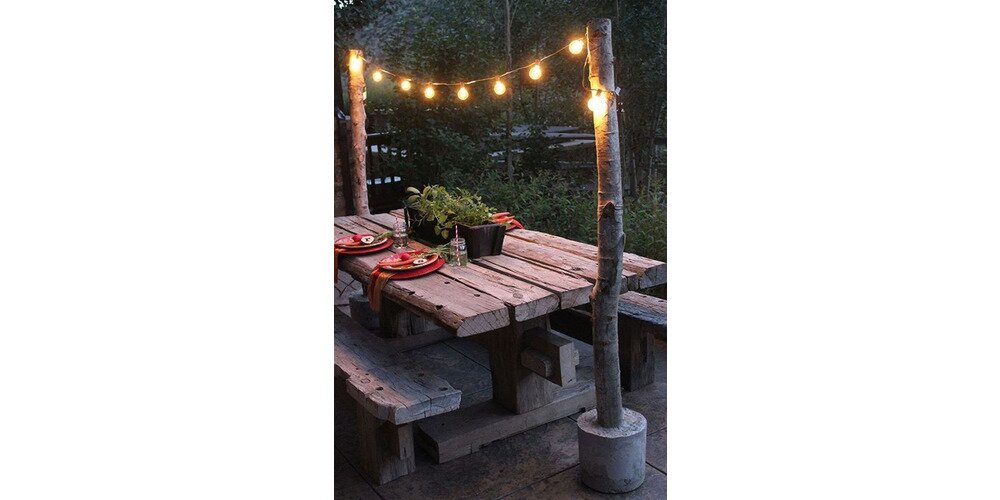 "It's really important to find a place within your garden to enjoy its beauty and serenity. Leave your phone and any gizmos in the house and take the time to just be peaceful in your outdoor space".
When it comes to decorating this space, be as bold or as subtle as you want. This area can be a great opportunity to inject a touch of your personality into your garden. Keep it stylish with Scandinavian influence or keep it cosy and warm with lots of pillows and blankets. Either way, this area should be comfortable, warm and bridge the gap between nature and your home.
Although there are distinct styles out there this year, don't be afraid to actually combine them. Mixing vintage furniture with a contemporary style can create a completely unique look in your garden, one that will say something about you as a person. This way of decorating your garden will really help it to stand out from the crowd, whilst also creating a sense of balance and fusion. To make the most out of this style it's important to focus on how you mix the styles, not what styles you mix. For example, combining wooden, rustic tables and chairs with bold, modern lighting produces a truly beautiful garden feature, one that is guaranteed to impress and inspire.
Garden Design Trends summed up
2018 is the year of simplicity. Designers seem to be heavily influenced by simplistic, minimal design, taking influence from trends such as Scandinavian, Hygge and contemporary minimalism. Thanks to this stripped-back style, these designs can be achieved quickly, easily and affordably. Start seeing your garden as interior designers do; not just as a place to grow vegetables and plants but an extension of you, your home and your style. By knowing the trends this early on you can get started on redesigning your garden now and have it looking fantastic for spring and summer.
Resources –
https://www.pouted.com/whats-trending-15-garden-designs-to-watch-for-in-2017/
https://www.gardendesign.com/trends/2018.html
http://www.themiddlesizedgarden.co.uk/2018-garden-trends-whats-new-garden/
https://www.gardenista.com/posts/10-best-garden-design-trends-2018/
http://www.housebeautiful.co.uk/garden/a870/7-ways-to-bring-hygge-to-your-garden/