Fire Bowl BBQ Guide
POSTED:

08th September 2021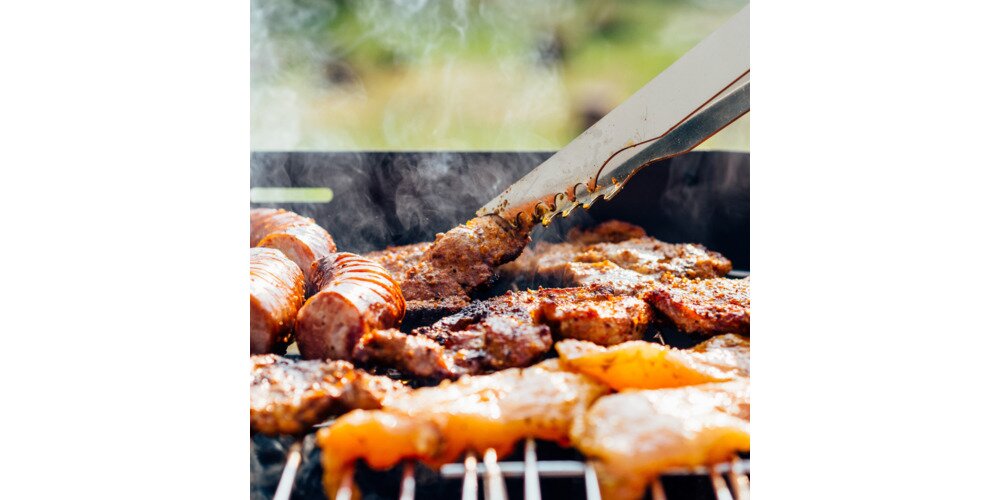 Toasted Marshmallow, Charred Bread, and Banana Sticks with Chocolate Fondue
A modern take on the old camping classic, this barbecued dessert will be a huge hit with the entire family. This dessert is both easy to make and wonderfully delicious.
Total time: 30 minutes
Ingredients:
For the skewers:
Ciabatta bread cut into chunks
Ripe but form Bananas cut into chunks
Marshmallows
For the chocolate fondue:
226g Dark chocolate, chopped
128g Double cream
3 tablespoons bourbon (optional)
Method:
The first thing to do is to make the fondue. Place the chocolate in a heatproof bowl. Bring cream to a simmer in a medium saucepan set over a medium-high grill; pour over chocolate. Let stand for 5 minutes. Whisk until smooth. Whisk in bourbon.
Next it's time to make the skewers. Simply thread bread chunks, banana chunks, and marshmallows onto skewers. Toast over fire bowl and serve with chocolate fondue for dipping.
Grilled Pineapple with Coconut Sorbet
A simple yet delicious dessert. This grilled pineapple and coconut sorbet is fantastically refreshing on a hot summer's day and makes for a wonderful dessert in which everyone can enjoy.
Total time: 30 minutes
Ingredients:
Vegetable oil, for grill
1 Pineapple, peeled, cored and cut crossways into 4 thick slices
2 tablespoons Honey
1/8 teaspoon cayenne pepper
250gm Coconut Sorbet
25gm torn fresh Mint Leaves, for garnish
Method:
Heat your barbecue to a medium heat and lightly oil the grill.
In a bowl, toss the pineapple with the honey and cayenne.
Grill for 10 to 15 minutes, until light-brown grill marks appear, turning only once.
Serve pineapple with sorbet; garnish with mint.
Dessert Panini
This is a quick and easy recipe that everyone can try and enjoy. Have a play around with the ingredients and see what works best for you.
Total time: 15 minutes
Ingredients
2 tablespoons sliced almonds
2 slices sourdough bread
4 tablespoons chocolate-hazelnut spread
4 strawberries, sliced
2 tablespoons salted butter, softened
1 teaspoon powdered sugar
Method:
Firstly, toast the almonds in a pan over medium heat until golden brown, 2 to 3 minutes.
Spread slices of the sourdough bread with a thick layer of the chocolate-hazelnut spread. Layer the strawberries onto the chocolate-hazelnut spread and top with a sprinkling of almonds. Then place the other slice of bread on top. Press the 2 slices together.
Butter one side of the sandwich and put it on fire bowl grill. Butter the other side and then switch after a couple of minutes.
Sprinkle with powdered sugar, cut in half and serve!